Gluten Free Quinoa + Chia Bread
Ingredients for 1 loaf:
300 g (10 1/2 oz / 1 3/4 cups) whole uncooked quinoa seed
60 g (2 fl oz / 1/4 cup) whole chia seed
250 ml / 1 cup water (use half to soak chia seeds and the other half to combine in the food processor)
60 ml (2 fl oz / ¼ cup) olive oil
1/2 teaspoon bicarb soda
1/2 teaspoon sea salt
juice from ½ lemon
Instructions:
Preheat oven to 160 C / 320 F. fan forced oven.
Soak quinoa in plenty of cold water overnight in the fridge.
Soak chia seed in 1/2 cup water until gel like – this can be done overnight as well, but just give it a few stirs at the beginning.
Drain the quinoa and rinse really well through a sieve. Make sure the water is fully drained from your sieve.
Place the quinoa into a food processor.
Add chia gel, 1/2 cup of water, olive oil, bicarb soda, sea salt and lemon juice.
Mix in a food processor for 3 minutes. The bread mix should resemble a batter consistency with some whole quinoa still left in the mix.
Spoon into a loaf tin lined with baking paper on all sides and the base.
Bake for 1 ½ hours until firm to touch and bounces back when pressed with your fingers. Mine took 1 1/2 hours – oven temps can vary slightly – but the bread needs the time to cook and for the quinoa to become tender.
Remove from the oven and cool for 30 minutes in the tin…then remove from the tin and cool completely on a rack or board. The bread should be slightly moist in the middle and crisp on the outside. Cool completely before eating.
Serve delicate slices only when cold with a serrated knife.
Store wrapped in the fridge for up to 1 week.(yes this can be frozen for up to 3 months)
Delicious lightly toasted on a pan.
Serves 12 – and best served lightly toasted in a pan until golden on both sides.
Quick tip: Serve topped with macadamia nut butter.
Enjoy it!
Quick & Easy Indian Curry Quinoa
Ingredients
1 cup quinoa, rinsed & drained
1 can (400ml) coconut milk
1 can (400ml) diced tomatoes
3 tbsp curry powder (note: curry powders vary in heat. If in doubt, go with less, and add more later)
2 tbsp ketchup or tomato paste
2 tbsp coconut oil (or other vegetable oil)
1 large onion
1 clove garlic, minced
1 carrot, diced
1 can (400g) chickpeas, drained
2 large handfuls of chopped spinach or kale
½ tsp crushed red chili pepper
salt and pepper
cilantro (fresh coriander) (optional)
Instructions
In a medium saucepan, mix quinoa, coconut milk, diced tomatoes (with juice), curry powder and ketchup/tomato paste, and bring to boil. Lower heat to lowest setting, cover saucepan and simmer until quinoa is ready, about 15 minutes.
While quinoa is cooking: in a frying pan, heat oil over medium heat and stir-fry the garlic and onion until translucent.
Add the carrot and saute for a couple minutes.
Add the chickpeas and cook for another couple minutes.
Add the spinach/kale and cook until wilted, about a minute.
Mix the veggies with the quinoa, season with salt, pepper and crushed red chili pepper, and garnish with cilantro before
serving.
Enjoy it!
Quinoa Oatmeal Bake With Apricots
Ingredients
1 cup rolled oats
2 cups cooked quinoa
3 tablespoons ground flax seed & ½ cup water (3 flax eggs)
1 cup unsweetened soy/almond milk
¼ cup almond butter
1 teaspoon vanilla extract
3 tablespoons brown sugar
1 teaspoon cinnamon
¼ teaspoon salt
1 cup chopped dried apricots
Instructions
If you don't have some cooked quinoa laying around, cook up a batch (a little under a cup of dry quinoa) and let it cool in the fridge.
Make 3 flax eggs by combining the ground flaxseed with water and letting it sit for 15 minutes until you get an eggy consistency.
Chop up your favorite dried fruit (I was craving apricots), and preheat the oven to 350 degrees.
In a large bowl, combine everything except for a small handful of the dried fruit. Give everything a big mix, especially if your almond butter isn't spreadable (trick: heat it up in the microwave first!).
Grease your baking pan with olive oil and dump the contents of the bowl into the pan. Top with your reserved dried fruit. I used a loaf pan (filled halfway) so that I would get plenty of crusty sides and a deeper volume for the oatmeal bake.
Bake for 25-30 minutes, checking starting around 20 minutes to ensure the middle is no longer 'jiggly' and that a crust has formed on top.
If you are using a shallower pan, reduce the baking time slightly and anticipate a thinner baked oatmeal. You could also easily double this recipe for a 9×9 or 8×8 pan, increasing the baking time. After letting the oatmeal sit and cool for a few minutes, slice into it and top with maple syrup, extra cinnamon, or yogurt.
Enjoy it!
Quinoa Stuffed Acorn Squash
Ingredients:
2 acorn squash, halved and seeds removed*
2 tbsp. olive oil
Coarse sea salt and pepper
1 c. quinoa, rinsed
2 c. vegetable broth or water
1/4 c. minced red onion
2 tbsp. fresh parsley, minced
1/2 c. raisins
1/4 c. toasted pecans
2 tbsp. balsamic vinegar
2 tbsp. olive oil
1/4 c. feta or parmesan cheese (optional)
toasted pepitas for garnish
*TIP: Use an ice cream scoop to easily remove the seeds from the squash!*
Directions:
Pre heat oven to 400 degrees.
Slice acorn squash in half and remove the seeds*. Spread olive oil on the inside
of the squash and then place on a baking sheet, cut-side down and bake for 20-25 min. or until soft.
Simmer quinoa, covered, in vegetable broth or water for 12-14 minutes, or until quinoa is cooked and liquid absorbed.
Add the diced red onion during the final 5 minutes of cooking time.
Remove quinoa from heat and mix in the raisins, pecans, balsamic vinegar, olive oil, parsley, parmesan and generously
season with sea salt and fresh ground pepper to taste.
Divide the quinoa stuffing amongst the four squash and spoon it.
Garnish with toasted pepitas!
Happy Holidays!
Quinoa Salad with Asparagus, Peas, Avocado & Lemon Basil Dressing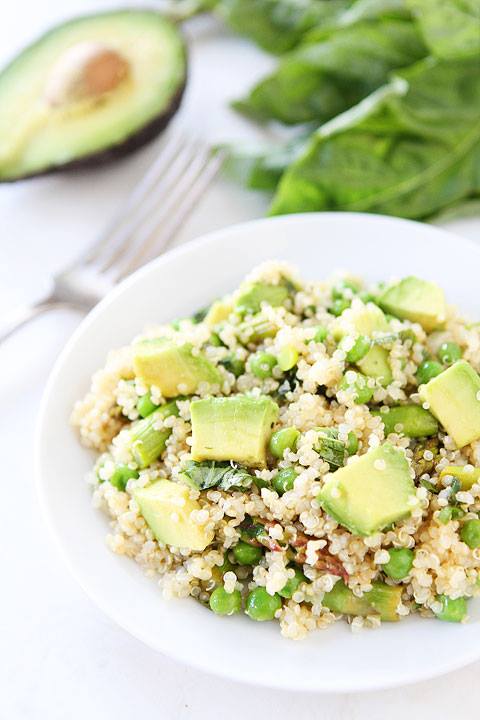 INGREDIENTS:
For the Dressing:
3 tablespoons olive oil
3 tablespoons fresh lemon juice
1 teaspoon honey or agave nectar
1 clove garlic, minced
1 tablespoon finely chopped fresh basil
salt and freshly ground black pepper, to taste
For the salad:
2 cups water
1 cup quinoa
1/2 teaspoon salt
2 teaspoons olive oil
1 small bunch asparagus, about 15 spears, cut into 1-inch pieces
1 tablespoon fresh lemon juice
1 cup frozen peas
1 avocado, chopped
salt and freshly ground black pepper, to taste
1/4 cup chopped basil
DIRECTIONS:
In a small bowl or medium jar, combine the dressing ingredients. Whisk to combine or shake with the jar lid on tight. Set aside.
Add water, quinoa, and salt to a medium saucepan and bring to a boil over medium heat. Boil for 5 minutes. Turn the heat to low and simmer for about 15 minutes, or until water is absorbed. Remove from heat and fluff with a fork.
While the quinoa is cooking, cook the asparagus. In a large skillet, heat the olive oil over medium heat. Add the asparagus and fresh lemon juice. Cook until tender, about 5 minutes. Stir in the peas and cook for an additional 2 minutes.
In a large bowl, combine quinoa, asparagus, peas, and avocado. Pour the dressing over the salad and stir until well coated. Season with salt and pepper, to taste. Stir in the fresh basil and serve.
Recipe Source: www.twopeasandtheirpod.com
Coconut Quinoa Smoothie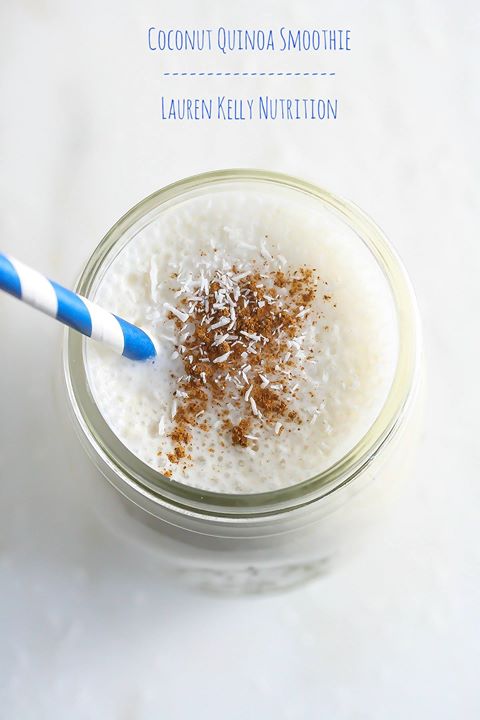 Ingredients:
1 cup coconut milk
1 banana, frozen
½ cup quinoa flakes
½ teaspoon pure vanilla extract
1-2 tablespoons 100% pure maple syrup
cinnamon for topping
Instructions:
Blend all of the ingredients except cinnamon in a blender until smooth.
Top with cinnamon if desired. Serve immediately or store in the refrigerator for up to a day for guaranteed freshness.
Recipe Source: www.laurenkellynutrition.com
Tropical Quinoa (Health Bars)
Ingredients:
1½ cup dry raw quinoa
2¾ cups water
¾ cup full fat coconut milk
3 flax eggs
3 tablespoon whole chia seeds
1 cup dried mango
½ cup dried papaya
½ cup dried figs
½ cup honey or agave syrup
3 cups shredded unsweetened coconut
¼ teaspoon himalayan rock salt
Instructions:
Rinse quinoa by placing it in a strainer and running it under water for 1 minute. Transfer for a medium sized saucepan, add water and cover. Bring to a boil, then reduce to simmer for 20-25 minutes. Don't remove the lid while cooking. Once complete, remove lid and set aside.
Combine coconut milk, eggs, and chia in a small bowl. Stir and set aside.
Preheat oven to 325F and line a 9×13 pan with parchment paper across both sides for easy lifting and set aside.
In a large bowl combine quinoa with the coconut milk mixture. Stir until fully combined.
Add remaining ingredients.
Press firmly into prepared pan and bake for 30-40 minutes or until lightly golden.
Remove from oven and allow to cool for 20 minutes. Slide out of pan and continue to cool for another 40 minutes before cutting.
Recipe source: http://amp.gs/ZP08
Clover & Red Beet Sprout Salad with Avocado Black Beans & Quinoa
<
Ingredients:
1 cup uncooked red or white quinoa
1 14-ounce can black beans – rinsed & drained
1 large avocado – sliced
1/3 cup fresh lime juice
6 ounces arugula
1 cup red beet sprouts
1 cup clover or alfalfa sprouts
extra virgin olive oil, if desired
salt to taste, if desired
Directions:
1. Place the quinoa in a sauce pan with 2 cups water. Bring to a boil, reduce heat to simmer, cover and let cook for 15 minutes.
2. After the quinoa has cooked and cooled a bit, mix in the black beans.
3. Place the lime juice in a shallow bowl and toss the avocado slices in the juice to help prevent browning. Then remove the avocado and mix the remaining lime juice in with the quino and black beans. Salt to taste, if desired.
4. Arrange a bed of arugula on a serving platter. Then place a layer of red beets sprouts on top of the arugula, followed by a bed of clover sprouts.
5. Place a mound of the quinoa-black bean mix on the sprouts. Arrange the avocado slices around the edge.
6. Serve chilled with a drizzle of extra virgin olive oil, if desired.
Enjoy!
Recipe Source: http://amp.gs/B35G
Spicy Plum Smoothie
Ingredients:
2 cups non dairy milk (oat, rice, soya, almond, hemp, coconut drink or raw nut or seed milk)
8 dried plums
1 banana
1 cup spinach
½ cup dates
1 cup oats or one cup of quinoa
½ teaspoon vanilla
1 teaspoon ginger (fresh or ground)
¼ teaspoon of cayenne pepper
Instructions:
1. Blend the ingredients in the order listed.
2. Add more water if required to thin it out.
3. Substitute any of the ingredients for whatever you already have.
4. If your smoothie is too warm, you can cool it down in the fridge.
Enjoy!
Recipe Source: http://amp.gs/BcSu
Spanish-style quinoa stuffed peppers
Ingredients:
PEPPERS:
1 cup (168 g) quinoa, thoroughly rinsed and drained
2 cups (460 ml) water
3 large red, yellow, green or orange bell peppers, halved, seeds removed
1/2 cup (120 g) tomato paste, plus more for serving
1 tsp cumin
1/2 tsp black pepper
1/2 tsp red pepper
2 garlic
1 diced red onion
1 cup (168 g) canned black beans
1 cup (168 g) whole kernel corn, drained
TOPPINGS optional:
1 ripe avocado, sliced
Fresh lime juice
Hot sauce
Cilantro, chopped
Instructions:
1. Add quinoa and water to a saucepan and bring to a boil over high heat. Once boiling, reduce heat, cover, and simmer until all liquid is absorbed and quinoa is fluffy – about 20 minutes.
2. Preheat oven to 375 degrees F (190 C) and lightly grease a 9×13 baking dish or rimmed baking sheet.
3. Brush halved peppers with a neutral, high heat oil, such as grape seed, avocado or refined coconut.
4. Add cooked quinoa to a large mixing bowl and add remaining ingredients – salsa through corn. Mix to thoroughly combine then taste and adjust seasonings accordingly, adding salt, pepper, or more spices as desired.
5. Generously stuff halved peppers with quinoa mixture until all peppers are full.
6. Bake for 30-40 minutes.
7. Serve with desired toppings (listed above) or as is. Best when fresh, though leftovers keep covered in the refrigerator for 2-3 days. Reheat in a 350-degree F (176 C) oven until warmed through – about 20 minutes.
Nutrition Information:
Serving size: 2 halves Calories: 311 Fat: 3.4g Saturated fat: 0g Carbohydrates: 59g Sugar: 8.2gSodium: 498mg Fiber: 11.5g Protein: 14.4g
Enjoy!!!
Cacao & Hemp Quinoa Breakfast Bowl (GlutenFree, Vegan)
Cacao Hemp Milk:
4 cups filtered water
1 cup hemp seeds
1/4 cup raw cacao
pinch of sea salt
1 teaspoon vanilla extract
4 medjool dates
Place all of the ingredients in your high-speed blender. Blend on a high speed until smooth and creamy. Strain using a nut milk bag or consume unstrained for the full nutritional benefits of the hemp seeds. Store in a tightly sealed glass jar for 3 to 5 days.
Cacao & Hemp Quinoa Breakfast Bowl:
¾-1 cup cooked quinoa, warm
1 cup cacao hemp milk or other non-dairy milk of your choice
½ banana, sliced
1 tablespoon dried superfood berries (goji, acai, mulberries, etc)
1 teaspoon cocoa nibs
1 teaspoon hemp seeds
Add the warm quinoa to a serving bowl, pour the cacao hemp milk over top. Top with fruit, cacao nibs, hemp seeds and any other toppings you'd like. Give it a taste and drizzle a little sweetener over top if you'd like it a little sweeter.
Enjoy!!!
Recipe source: http://amp.gs/fWkw
Cucumber Quinoa Salad
INGREDIENTS:
CUCUMBER QUINOA SALAD INGREDIENTS:
1 english cucumber, diced
1 yellow, red or orange bell pepper, chopped
2 cups chilled* cooked quinoa
1/2 cup diced red onion
1/2 cup crumbled feta cheese
1/3 cup julienned or roughly-chopped fresh parsley
1 batch Lemony Italian vinaigrette (see below)
LEMONY ITALIAN VINAIGRETTE INGREDIENTS:
1/4 cup olive oil
1 tablespoon fresh lemon juice
1/2 teaspoon Italian seasoning, homemade or store-bought
pinch of salt and black pepper
DIRECTIONS:
TO MAKE THE CUCUMBER QUINOA SALAD:
Toss all ingredients together until combined. Serve immediately.
TO MAKE THE LEMONY ITALIAN VINAIGRETTE:
1. Whisk all ingredients together in a small bowl until combined.
*If you add hot quinoa fresh out of the pan, it will melt the cheese and wilt the basil a bit in this recipe. So I recommend cooking it beforehand and letting it chill in the refrigerator before making the salad. Or, if you need to cook it immediately beforehand, just spread the cooked quinoa out in a thin layer on a baking sheet and pop it in the freezer for 15-20 minutes. That will help it cool down nice and quickly!
Enjoy!!!
Recipe adapted from Martha Stewart: www.marthastewart.com
(https://www.marthastewart.com/874…/quinoa-and-cucumber-salad)
Easy vegan white bean burgers
Ingredients:
1 cup cooked quinoa
1 cup white beans, rinsed and drained
1 teaspoon ground cumin
1 teaspoon paprika
1 teaspoon garlic powder
1/2 teaspoons salt
1/4 cup salsa
1/4 cup + 2 tablespoons breadcrumbs, divided gluten free if necessary
Olive oil, for browning burgers
6 hamburger buns, gluten free if necessary
Optional toppings: lettuce, tomato, mayo (vegan), onion
Instructions:
Add all ingredients plus 1/4 cup of the bread crumbs to a food processor. Process for 45-60 seconds, until all ingredients are blended together, but still a little bit chunky. Transfer mixture to a medium sized bowl and refrigerate for about ten minutes. Remove from the refrigerator and stir in the remaining 2 tablespoons of bread crumbs. Form mixture into patties. You will get about 6 patties, depending on the size you make them. Line a large sheet pan with parchment paper and place black bean burgers on. Refrigerator for about 20 minutes.
Heat a large pan over medium heat and coat the bottom with olive oil. Cook the burgers for about 3-5 minutes on each side, until crisp and heated through. Top with your favorite burger toppings and enjoy!
Lentil, Kale & Quinoa Stew Vegan
Ingredients:
1 tablespoon coconut oil
1 yellow onion
3 carrots
3 celery stalks
4 cloves garlic
1 ½ teaspoon ground cumin
½ teaspoon ground ginger
½ teaspoon ground turmeric
2 teaspoon salt, plus more to taste
1 cup red lentils
½ cup dry quinoa
5 cups water
26.5 oz box of chopped tomatoes
2 cups chopped kale, tough stems removed
Directions:
Melt the coconut oil in a large pot over medium heat and sauté the onions, carrots, and celery until tender, about 8 minutes. Add in the minced garlic and sauté another minute, just until fragrant. Add in the cumin, ginger, turmeric, salt, lentils, quinoa, water, and tomatoes and bring the soup to a boil. Once boiling, lower the heat and cover the pot to let everything simmer until the lentils are tender, about 20 minutes.
Enjoy!!!
Recipe source: http://amp.gs/ytYH